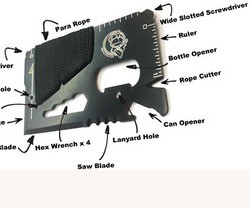 You don't want to miss out on this…
Get your free Rescue Card (just pay shipping), compliments of Ape Survival™.
They are giving away 2500 of these Bad-Ass 16 in 1 Rescue Cards. You just need to tell them where to ship it…
Enter your Shipping Address here!
This Rescue Card is super handy and I've use it on numerous occasions while I was out and about.  It's slim enough to fit in your wallet or pocket so you can have it will you at all times!
This amazing offer won't be available for long though, so grab yours now while they're still available.
You can get your Rescue Card here!
Thanks for your support!
Deb Stowers 
Stormy Orchid, LLC
deb@stromyorchid.com
918-607-6094
P.S. I've been told that once the initial 2500 are gone the price will go back up to the original $14.95.  So you better grab one while you only have to pay the shipping!
Please follow and like us: